On a recent trip to Sheri's I was glancing through the pie selection and realized that a) I don't make nearly enough pie and b) all their pies seemed simple enough that I could do them on my own. I could possibly be wrong about the latter, but certainly not about the former. And so begins the Summer Of Pie, wherein I will make many pies all through the summer and document the process here. The rules are that it has to be made of good ingredients and I can't directly follow a recipe. Referencing recipes is OK, but the final creation must be my own.
First up was what I call the Triple Berry Attack. I had some canned blueberries, some frozen blackberries from last fall and I bought a pint of strawberries. Nothing else is really in season yet.
The problem with blackberries is the seeds, so I cooked them down with the blueberry syrup and strained out the pulp. I added lemon juice and sugar to taste, then thickened with tapioca flour. I was worried that it would thicken too much but it was just about right, and without any off flavors.
At the last minute I added the blueberries and diced strawberries, mixed quickly and then dumped into an uncooked pie shell. Baked for about 30 minutes at 400°. The hardest part was waiting until the next day to taste. Had I known how good it would taste, the wait would have been even harder. It was not too sweet, a problem that many sweets have these days. The flavors balanced well and the syrup was just runny enough.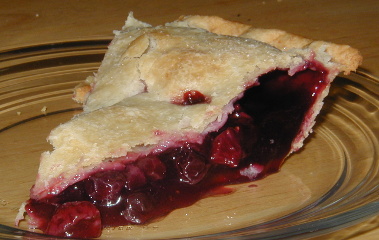 A great start to what is sure to be a great summer.